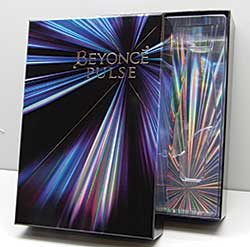 THE Beyoncé Pulse perfume collection has won the International Hologram Manufacturers Association's (IHMA) award for its "exceptional" use of a hologram or holographic material for decorative and promotional purposes.
Hazen Paper Company, Curtis Packaging and Coty Inc picked up the 'Best Applied Decorative Product' award for a holographic-based solution which seamlessly wraps all the panels of the box to create a 3D-burst effect focused on the product name.
The hologram is partly over-printed in a radiant purple so that shafts of silver holographic light radiate from Beyoncé Pulse.
The packaging comes in eight different sizes and in a windowed boxed set which features the un-printed hologram on the back internal wall of the pack to highlight the products in front of it.
The Holography Awards recognise outstanding industry achievement and are presented to those who have introduced the most innovative or commercially viable hologram product or technique over the year.