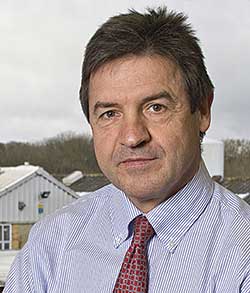 TAMPER evident and pilfer proof closures manufacturer Viscose Closures Limited has undergone a change of ownership.
Gareth Rowlands (pictured) has successfully led a management buy-in of Crawley-based Viscose Sleeving Ltd, the holding company of Viscose Closures Ltd. With the backing of Finance Wales and two other private investors all of the shares in Viscose Sleeving Ltd were acquired from the former shareholders.
Rowlands who has a wealth of experience at chief executive level, in the UK and overseas, in managing industrial and consumer companies, took up his new position of managing director in November.
He said: "Viscose Closures Limited is an exciting company with a strong customer base in the UK, as well as an extensive export network. The product range and market sectors served provide great opportunities for growth. With the backing of Finance Wales, the investment arm of the Welsh Assembly whose brief is to invest in businesses with such potential, I look forward to leading the company through the next chapter in its story."
Bill Cartwright the former Managing Director has retired while the other former manager shareholders will remain in their management roles. There are no other changes to the management structure of the company and all contacts for suppliers and customers remain as before.