INDEPENDENT label printer Labelgraphics is defying the difficult economic conditions by driving forward an ambitious £5m expansion plan.
The wine and spirits label specialist is expecting to create more than 20 new jobs by investing in a new purpose built factory, a 510mm wide EMS Gallus press and an upgrade of its existing presses.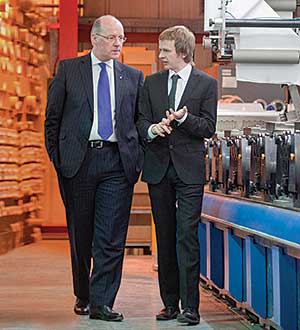 The Clydebank operation concluded a positive 2011 by welcoming Cabinet Secretary for Finance and Employment John Swinney to its premises as part of the Scottish Government's economic strategy, focusing on the availability of funding to growing companies.
The expansion comes after the business secured £1.8m funding support from Lloyds Banking Group and a further £1.25m of Regional Selective Assistance funding from Scottish Enterprise.
Projects director Peter Mulvenny hopes the plan will unlock the potential for further growth, boosting turnover to £12m in the coming year; while the implementation of lean management processes, as well as plans to add a further 40,000 sq. ft. extension will help to increase projected turnover to £20m in the next five years.
Mulvenny said: "The jewel in the crown is the development of the new purpose built factory. However, we have also invested heavily in plant equipment with a new Gallus EMS 510mm 10 colour press being commissioned in March.
"To complement this, we have upgraded our 10 colour RCS press to 12 colour, with an additional hot foiling option.
"Further investment has also seen a move into the digital market, with delivery of a small four colour digital press solution for the short run multi edit ranges. A second digital press complete with finishing unit will be installed in May.
"This installation offers a combination of digital, flexo and screen printing, foil blocking and embossing and will produce labels to the same exacting standards as our existing conventional presses."
Labelgraphics continues to push forward on the innovation front, working on a variety of challenging customer projects, some of which include: QR code technology, 3D material stocks, Dual Height Embossing, Scratch off inks and foils, Thermochromic Technologies and RFID tags.
The company has also been chosen as one of two beta test sites in Europe for a new cold die thinstream project which will result in it being able to print using clear on clear carrier liners as thin as 12 microns.
Last year saw the company recruit a number of key personnel including operations manager Tony Coulthard who has restructured and improved the production department and played a key role in planning the new facility; and area sales manager David McCafferty whose experience in the wines and spirits sector has strengthened the firm's external sales team. Kenny Copeland joined the company in November as IT manager and a new continuous improvement manager will be recruited early this year.